20 years in the West End
Our West End Agency Partner looks back over
20 years from the opening of our West End office.
How time flies when you are having fun!
We opened our doors in January 1998 at 18 Hanover Street above
what was then a Lotus showroom and after 10 years moved to
Bruton Place where many a summer afternoon was spent discussing
market trends with colleagues and competitors alike outside the
infamous Guinea Grill. This was followed by a brief stint in North
Row until in June last year we moved to our current premises in
Park Street, W1.
Since I started at Kinney Green, 20 years ago, more than 70,000,000
sq ft of new office space has been created in London. To put that
into perspective, this is more or less equal to the entire office stock
of Singapore! Being a niche practice we have of course only dealt
with a tiny fraction of the stock but I would like to think our clients
appreciate the services we have provided throughout our time in
the West End.
There are numerous highlights during this time, including the £100
per sq ft barrier being achieved for the first time at 25 Hanover
Square in Mayfair in 2008, the commencement and now almost
completion of the long awaited Crossrail and the comprehensive
redevelopments of Paddington and King's Cross, both of which
now stand as West End submarkets in their own right.
For the property market as a whole, the most significant changes
have been the widespread adoption of enhanced IT which has
become fundamental to the success of any business and the
growth in more recent years in the serviced office market which is
now recognised as a mainstream alternative to the conventional
leasing model.
In the economy more generally, landmark events include the birth
of Google in 1998, the introduction of the Euro in 1999 and the
Brexit vote in the UK in 2016.
There have been booms and busts, and lots of surprises – both
good and bad. The skyline has changed dramatically, with new
structures such as the Shard, the Gherkin and the London Eye,
now synonymous with London.
Rents and lease terms have changed dramatically. Shorter term
leases are now the norm and the previously de rigueur 25 year FRI
lease has all but been consigned to the grave, with flexibility being
the key driver for the majority of occupiers, hence the increase
in popularity of serviced offices which cater for this demand.
Connectivity is king and modern offices must cater to the ever
changing needs of their tenants more and more.
One thing that hasn't changed is that London continues to be
one of the greatest international cities in the world and the Kinney
Green West End office is now firmly established alongside its elder
sibling in the City.
Here's to the next 20 years although I somehow doubt I'll still
be here!
For further information please contact Kevin 020 7495 1222 k.kemplen@kinneygreen.com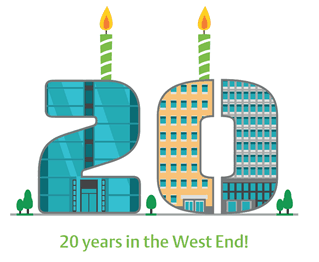 News Archive